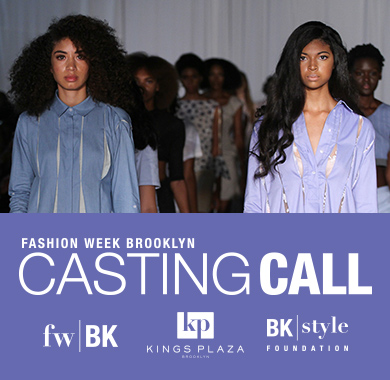 KINGS PLAZA CASTING CALL
MORE INFO HERE!
NOW THROUGH MARCH 11, 2017
5100 Kings Plaza
Brooklyn, NY 11234
(718) 253-6842
Fashion Week, Brooklyn and Kings Plaza are hosting open Casting Calls for models, hair stylists, make-up artists, fashion stylists and fashion designers to be part of its runway shows.

All those selected at the Casting Calls will have an unique opportunity to participate in Fashion Week, Brooklyn's Opening Ceremony at Kings Plaza on Saturday, March 25th, which will feature the hottest trends from Kings Plaza retailers and runway shows that will take place throughout Brooklyn. The Casting Calls are open to everyone 5 years old and up. However, anyone under 18 years old must be accompanied by a parent or legal guardian to be models in the runway shows.

To be a part of this incredible event, stop by Kings Plaza on the dates
and times listed below. No prior experience is required. Ladies please, remember to bring HEELS!

Saturday, February 18th: 2 PM – 4 PM

Saturday, February 25th: 2 PM – 4 PM
Location: Center Court (near The Cookie House)

*Saturday, March 4th: 2 PM – 4 PM

*Location: Center Court (near Zales)
LOCATION CHANGE: Fashion Week, Brooklyn Casting Calls Sat. 3/4 are now on LEVEL 1 (by Zales & Call It Spring)
Saturday, March 11th: 2 PM – 4 PM
Location: Center Court (near The Cookie House)

Disclaimer: Participation in a Casting Call does not guarantee that an individual will be selected to participate in any Fashion Week Brooklyn event or runway show. Selections shall be made at Fashion Week Brooklyn's and/or Kings Plaza's discretion. Fashion Week Brooklyn and Kings Plaza may withhold an individual from an event, even if selected from a Casting Call for any reason.