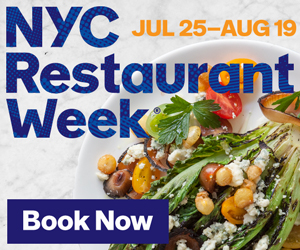 What is NYC Restaurant Week?
NYC Restaurant Week is a semiannual promotion that celebrates fine dining at an affordable price. Participating restaurants offer three-course prix-fixe menus specially priced lunch and/or dinner (Saturdays excluded, Sundays optional. Beverages, gratuities and taxes not included).*
When is NYC Restaurant Week Summer 2016?
July 25–August 19. The list of participating restaurants and reservations will be available on July 11.
When is NYC Restaurant Week Winter 2017?
The dates will be announced following the next NYC Restaurant Week.
Is NYC Restaurant Week available on Saturdays?
No. A few restaurants may offer their prix-fixe menu on Saturdays, but the majority do not.
Where can I find the NYC Restaurant Week Dining Guide?
The booklets are available in participating restaurants and major hotels the week prior to program launch. Unfortunately, we are unable to mail booklets to individuals.
There's a restaurant I really want to be in NYC Restaurant Week. How can I make it happen?
Tell the restaurant manager or owner about it, and have them request information.
Do I have to make reservations?
Reservations are highly recommended. However, the NYC Restaurant Week menu is offered to all guests, including walk-ins. We encourage you to make reservations via our program sponsor, OpenTable.
What's included in the prix fixe?
Restaurants offer a minimum of three choices for appetizers, three choices for entrées and at least two desserts. Several restaurants may also offer drink specials, supplemental items and other à la carte options for an additional price.